SOY UKIYOE for the WORLD / 醤油絵皿の世界展開
I am
Masaru Iwata
represent of design label
FantaSuteki, is sensible of producing
unique idea into natural design based on engineering.
Name is coined word FANTASTIC & japanese SUTEKI means wonderful.

メゾン・エ・オブジェ 2011 出展 Maison&Objet in Hall3-A53 Paris Nord Villepinte
The Japanese No1 Soy-sauce dish "Soy UkiyoE" have
become global sauce-dish, for the high-sense shop,
european famous sushi-restaurant, ...etc, Very Thanks,
though this is first challenge to exhibit at Paris <21-25jan>
as the JAPAN BRAND of METI.go.jp & hosted by JETRO.
Stand-design at table-ware hall in Maison&Objet
We exhibited as "SoyUkiyoE SETO JapanBrand" by Wabi-compact booth original designed.
Lineup became "6type of transformer"
Earth series 3type, oval dish: each price 1500yen
Fish series 3type, square dish: each price 1700yen
2type of FUJI & HANA is New, left-lower of photo.
Other 4type is ready-made well-shaped by minor-change repeatedly.
Dish of "Universal Design & ART" for Sushi
Soy UkiyoE is unique and practical Soy-sauce dish, shaped some picture stepwise by high-grade porcelain made in SETO Japan.
Fun to taste Soy Shape ART! transforming 3D sauce ANIME on sauce level at pouring dipping & decreasing sauce.
ARTist is not me but you, User in this Universal ART.
2ndly, designed hospitable functions, the sauce is shallow spread leaving flat area, so that you can taste food deliciously in seasoned dipping without dropping-off sushi-rice and fit chopsticks on chopstick-rest, even if you are awkward to use chopsticks.
<3> No inclination, no spilling, by wide bottom.
<4> Low-salt use, aiming small-someone of sauce-picture escaping deep area.
<5> See through porcelain transmits light, the proof of genuine white-porcelain.
<6> Color-gradation of your sauce depth.
<7> Long-life eco designed by anti-chip technology.
<8> Pro-use in Japan 100restaurant ex.Sushi at Tsukiji.
<9> Not only for Soy but your Sauce and creative dish of foods.
<10> The new-use of No1 SoySauce dish is extended to the world as the JAPAN BRAND of METI.go.jp.
We "FantaSuteki + SETOwareMaker"
have been able to create the Japanese
No1 SOY sauce dishes in this 8years.
And after the disaster 3.11, we wish the rumor of Japanese fish recovered by this hospitality of fun to taste, and taking some action to aid.
Reference
SoyUkiyoE buyer in Japan.
60% General-home.
> for Table wear: Sushi, Sashimi, Nabe, Fry, BBQ, Laver, etc.
> for Porcelain ornament: Fisherman, Marine fun, Gardening fun, etc.
> for Gift: Presents, Bridal, etc.

40% Food-restaurant.
> for Pro use: Sushi "2shop at Tsukiji", Japanese food, Sea food, Drinking shop, etc. "total about 100restaurant mainly for sushi"



Please experience the No1 dish of Sushi & Soy country.
Foreign event
Sept. 2011 at Paris
"SUGAO ESSENTIAL DESIGN in JAPAN"
@
merci
in France.
We take part in the merci's event by "SoyUkiyoE"dishes and
"BamBoon"chopsticks
during the Paris design week.
6type of Transform Design

*TUNA > Jack > Squid "FoodChain"

*CRAB > Fairy > Heart "Hearty"

*BREAM > Young > Baby "Grouth"

*BONSAI > Plant > Fuji "Sakura"

*FUJI -new- > TsunamiFish > Logo "ModernHokusai"

*HANA -new- > Flowers&Bamboo > Kanji "PeacefulGarden"


Exhibition Booth of "SoyUkiyoE SETO JapanBrand" LaTable展示風景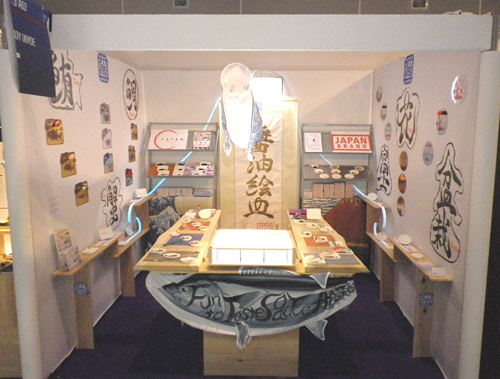 Soy UkiyoE "Earth / Fish series" 6type of the Soy Shape Story 全6タイプの物語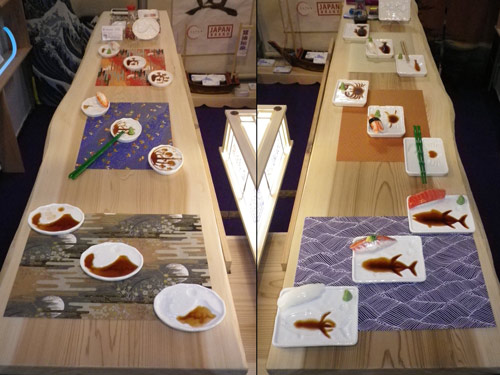 Soy UkiyoE "FUJI" shape and gradation. 醤油絵皿・新作「富士」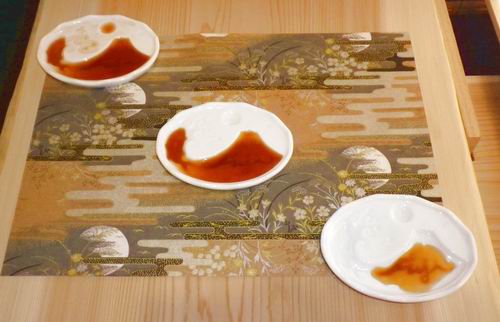 Soy UkiyoE "HANA" shape and gradation. 醤油絵皿・新作「花」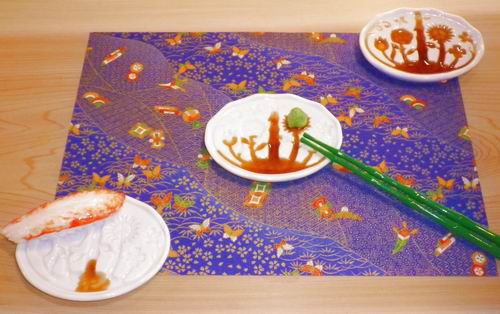 Soy UkiyoE "Ready-Made" 4type 醤油絵皿・現行品4タイプ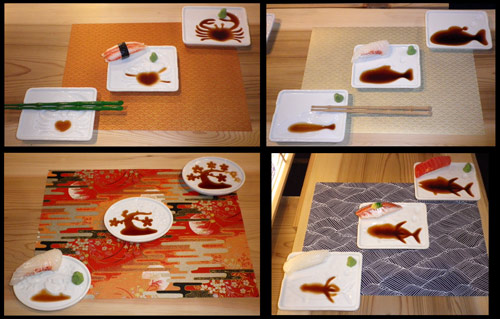 Streamer display "Soy Anime/Universal Design & ART" 鯉のぼり表記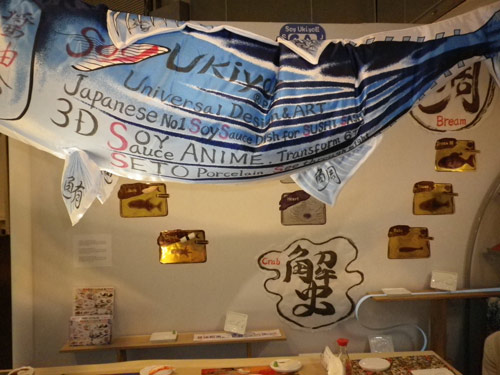 Proof of genuine porcelain "See through transmits light" 透過光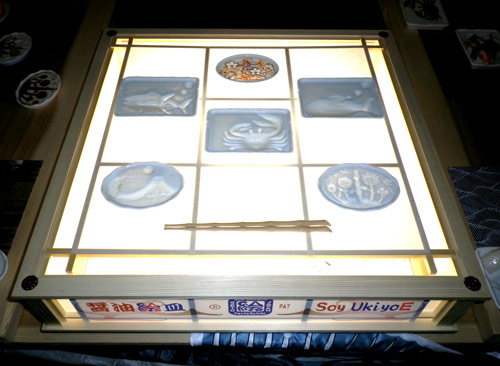 Japanesque installation "high and low tech materials" 書道〜ELまで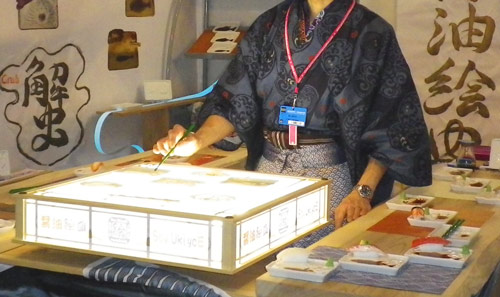 SoyUkiyoE amusement "practical Modern ART of Sushi" 醤油アート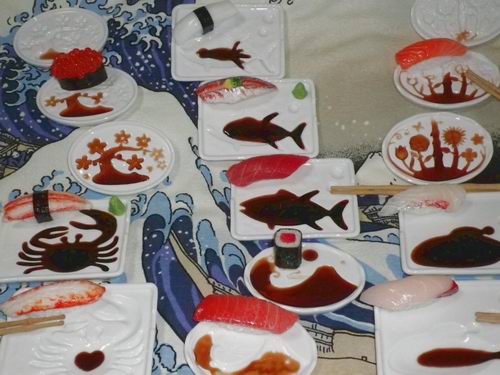 Soy UkiyoE "CATALOG 2013" 醤油絵皿 カタログ 2013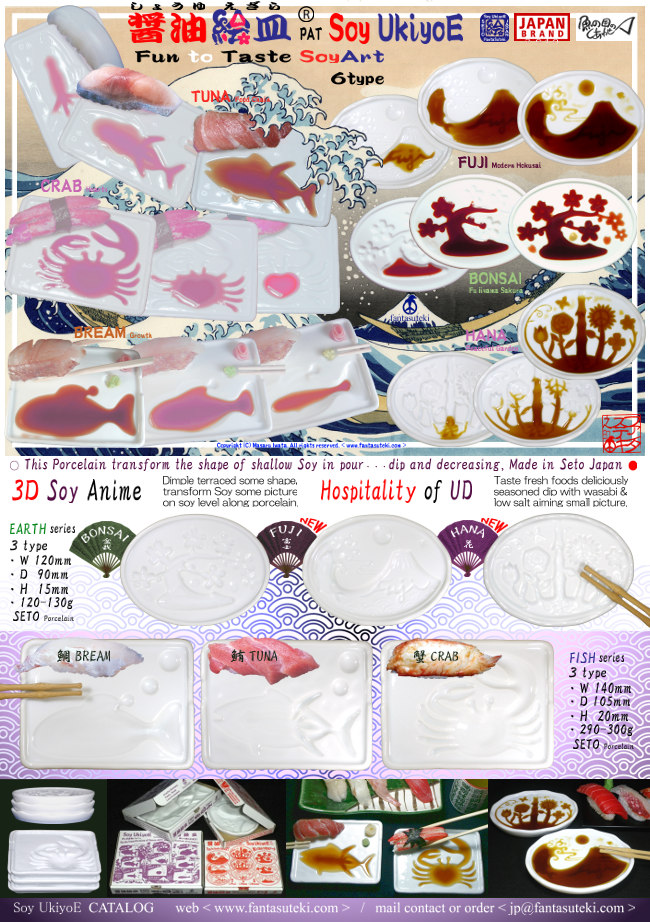 ミラノサローネ2007出展 MILANO SALONE in SuperStudio, ZonaTortona
BORN and BRED "ミラノサローネ展示ビデオより抜粋"
The exhibition named Tokyo Design Premio,17-23 April,
promoted by Design Association & JETRO in Japan.
The Japanese added colors to Design Week in Milan,
and the SOY UKIYOE became favorite with foreigner.

Profile of designer
Masaru Iwata >
Born in the Bonsai Garden foot of FUJI-YAMA JAPAN, and bred by Mt-FUJI & OCEAN.
1991: Master's degree in design engineering from MEIJI-University.
1991-2002: NISSAN-Motor engineer of development.
2003: Master Intellectual Property.
2004: Establish original design label FantaSuteki.
This is FANTASUTEKI's booth.
Background is a quarter of Japanese exhibitions.
The near back is Miniature-Tokyo by Mori Building, and farther area is FRANCEBED, FUJITSU, RICHO etc, and next-left is the movie SAKURAN of MikaNinagawa produced by KengoKuma.
There are NTT docomo, TOYOTA LEXUS, in near studio at this Tortona zone.
Many major Japanese propose new concept too.
トルトーナは第2のミラノサローネ会場の様相。


This is FANTASUTEKI's work "SOY UKIYOE"

SOY UKIYOE is unique and practical SOY TRAY.

SOY dimple is terraced by some shaped steps, so SOY is transformed into some shape or picture on SOY level, photo is shown 3steps of each types.

1st, you can enjoy transforming of natural SOY-ART at meal of pouring, dipping and decreasing SOY.
2ndly, these SOY is shallow spread leaving flat area, so that you can taste food deliciously in seasoned dipping.
3rdly, no inclination, no spilling, by wide bottom.
4thly, low salt, aiming small someone of SOY picture, etc.
These function is PAT, and 2-4th is Universal Design also.
SOY UKIYOE type SAKURA BONSAI, on red cloth in photo.
< concept > Neo Japanesque emotion & sensitivity
< design > SOY pattern is OCEAN > FUJIYAMA > TREE > BUD & BLOSSOM of cherry > The last full blossom is at meals.
Influenced by bold composition of HOKUSAI's UKIYOE & my parent's BONSAI garden & great NATURE.
Enjoy transmigration of Souls and Space needless to say SAUCE.
In this Milan, we could direct Contemporary ART of the Sakura with my neighbor movie SAKURAN.
< specification > new-type, W120 D90 H15mm, 115g. high-grade Porcelain, made in Seto Japan.

SOY UKIYOE 3type FISH SERIES
< concept > Redesign the Joy & Hospitality of japanese tableware as SOY country.
< design > SOY pattern is typeA: small-BREAM > big-BREAM, left in photo.
typeB: SQUID > JACK fish > TUNA.
typeC: HEART > big-HEART > CRAB, right in photo.
Enjoy delicious tasting Sushi, Sashimi, etc. put on top-left & use chopsticks easy.
< specification > 3type, W138 D105 H20mm, 320g. high-grade Porcelain, made in Seto Japan.

I tried interactive installation by real SOY demonstration and Neo-Japanesque space, deepened "UKIYOE SYOJI display" with painted-dish, "BAMBOO LIGHT" composed LED.
It was very glad matter that many foreigner interested in SOY UKIYOE and said "I want to buy."
I'm thankful to our milano-salone visitors here.
And exhibited 2 of PROTOTYPE

This is the proof of genuine WHITE-PORCELAIN ability to transmit light.
< Blooming Planet >
SAKURA BONSAI back-lighted by LED conserve energy and low-heat, fantastic luminescence for the relief of interior etc.
< Lunar Sea >
3type-FISH SERIES covered the light on the acrylic stand, diffuse vertically.
Moonlight healing for the indirect lighting stand etc.


ESTIMATION in JAPAN >
2005: Kankaku MUSEUM collection.
2006: TOYOTA UD showcase goods.
: Tokyo Invention Ex Promotive-prize.
2007: Restaurant-USE 100 shop, Sushi at Tsukiji etc. and Home-USE all-prefecture, increasing.
And some character goods of FantaSuteki's trade-mark named Peaceful-Dolphin have become popular.
The last, this is " SOY UKIYOE CATALOG 2009 " < Selling Products >
Click to run "
SOY UKIYOE MOVIE Real Size
" by Flash
"ミラノサローネバージョンのフラッシュビデオ上映中"
I respect the Nature for Peaceful Design in the name of FantaSuteki
Oh My Ghosn !
SOY UKIYOE "SAKURA BONSAI" etc. "醤油絵皿「桜盆栽」など"
SOY UKIYOE "FISH SERIES" "醤油絵皿「活たれ皿」"
UKIYOE SYOJI DISPLAY < Order Made > "浮世絵障子(受注生産)"
Blooming Planet < Order Made > "花の惑星(受注生産)"
Lunar Sea < Order Made > "月の海(受注生産)"
ESTIMATION in JAPAN "国内実績"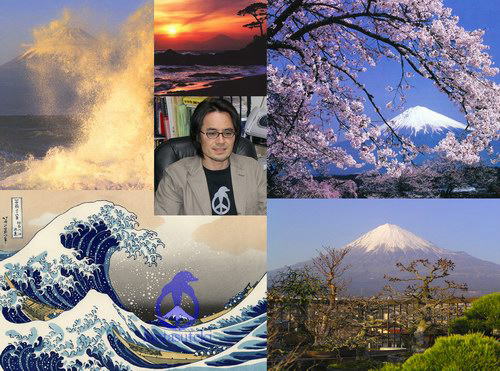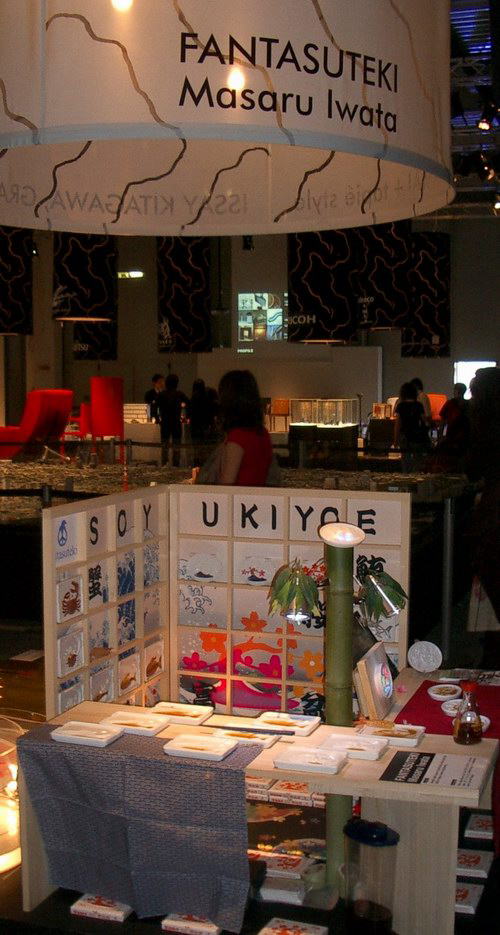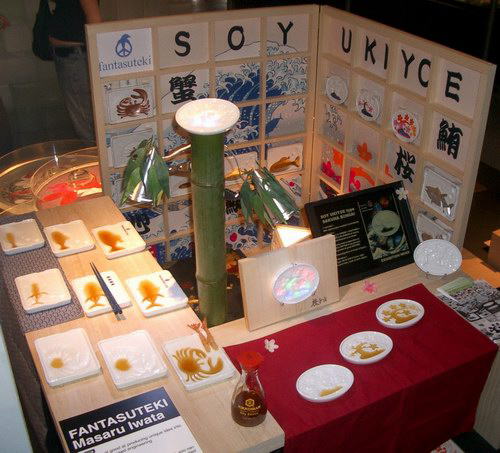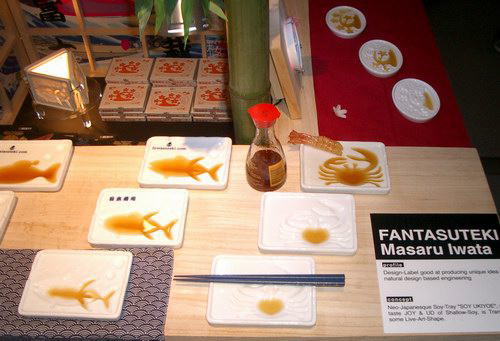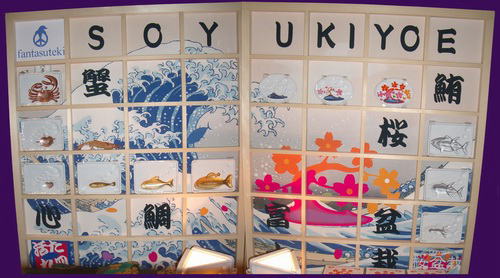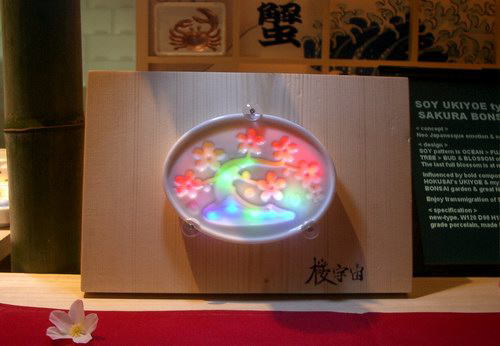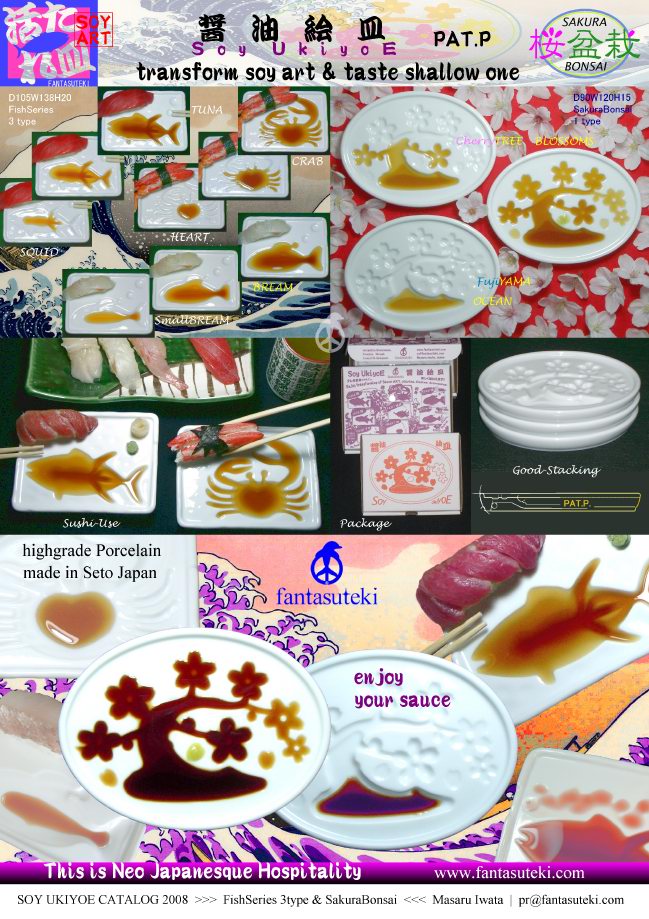 Copyright < c > 2007-2011 Masaru Iwata < fantasuteki.com > All Rights Reserved.